About Bhagwatsinhji Maharaja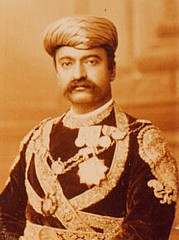 Bhagwatsinhji Maharaja
Name: Bhagwatsinhji Sangramsinhji Jadeja
Nickname: Gondalbapu
Birth: 24th October 1865 (Fifth lunar month of Kartik)
Death: 9th March 1944
Family:
Mother– Monghiba

Father– Sangramsinh

Marriage – 1882 (With four Queens)

Chief Queen - Nandkunvarba (The lady who has broken the long lastic custom of keeping women veiled, She was awarded with 'Crown of India' by Queen Victoria for her efforts to bring women dignity and importance.)

Children - Bhojarajsinh, Bhupatsinhji, Kiritsinhji, Natvarsinhji, Bakunvarba, Lilaba, Taraba.
Education:

At the age of Nine Rajkumar College at Rajkot;

1887 - L.L.D (Medical Education) from Edinburgh University from Scotland

1890 – M.B.C.M and M.R.C.P from Edinburgh

1895 – F.R.C.P & M.D -for concise resarch of History in Auyrvedic from Royal College of Edinburgh

Other Qualification:

G.C.S.I., G.C.I.I., F.R.S., D.C.L., M.R.I.,F.C.P&S., Fellow of Bombay University
Profession: Head of a State
Prime Creation: Bhagwadgomandal -Nine Volume - Gujarati Encyclopedia
Coronation on 25th August 1884
1930-33 – Crores rupees of primary work for Public - Like Bridges, Schools, Road, Bring facility of Electricity in Dhoraji and Upleta, Facility of Tram; During his Government Gondal, Dhoraji and Upleta becomes best cities of the nation; Clean water from Seven tanks to Gondal and Moviya village, At that time he brings under ground drainage system, under ground electricity planning and he connects all villages of state to Gondal with telephone lines.
Love for tree - He has planned lots of trees on both sides of roads of Gondal state, so passengers can sit under the shadow of trees and they can complete their journey smoothly.
Book Publication – Rare nine volumes of Bhagwadgomandal with 9870 pages contain lots of infomation of Indian Culture similar with encyclopedia which is not available in any other Indian language
Royal emblem of Gondal state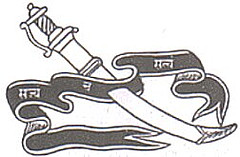 Honour :

In 1897 Diamond Jubilee of Queen Victoria, present as a representative of all kings of Kathiyavad and honoured by title of G.C.I.E

In 1934 when his government completed his fifty years, people of his state weight him against gold which they have collect from their own expense and use that gold for public work.
State anthem of Gondal by 'Vihari': ગોંડલિયું ગોકુળ અમારું ગોંડલિયું ગોકુળ,
-નંદનવન
વૃંદાવન શાં ગામડા ગુંજે, સંસ્કારે સોહાય,
ગોંદરે ગોંદરે શારદા મંદિર બાલવૃંદ વિલસાય.
સારાયે સૌરાષ્ટ્રનું અંતર, ઇશ્વરે આ નિર્મેલ,
નીર નિરંતર વહે અખંડિત, ગોરસ રસની રેલ.
કૃષ્ણકૃપા છે કણ કણસલે મઘુવન મીઠાં વૃક્ષ,
કુંજ નિકુંજ શાં ખેતર વાડી સુંવાળાં સુરક્ષ.
રિદ્ધિ સિદ્ધિ શ્રી ભગવતની સુખ-શાંતિનાં રાજ્ય,
પશુ પંખીજન ઝાડને પણ જ્યાં અભયનાં સામ્રાજ્ય

Credits : Suresh Jani